Testimonials
Clint, Thanks again for a hunt of a lifetime! I haven't stopped thinking about the hunts since I got home! If you need a reference I'd be glad to help out, I attached a few pics. Thanks again for everything! Justin
Justin Sandlin
I had the caribou officially scored by a Boone and Crockett measurer. He grossed just under 420 and nets 407. Hell of a bull! Thanks for the memories. Take care,
Zach, Montana
He is an exceptional outfitter with a relentless drive to succeed and committed to providing the very best experience available. I look forward to many more hunts with Clint.
Neil Mefford
Just a short note to thank you for looking after me so well during my stay with you. You are very good at your chosen profession and I was suitably impressed with your safety and the excellent equipment you have. Must run, thanks again for a great time.
D. I. (Ian) Hay
Clint, Just wanted to say thanks again for another wonderful hunt and also for the special hospitality I've become accustomed to over the years with Kispiox Valley Outfitters. This was the 6th hunt we've shared and I can't wait to finalize the details for our next this spring and fall. Your hunting area is a special place and each visit reveals something special about you and all the preparations made for each and every adventure. Take care and see you soon!
James G
Tim and I had a good trip home but its back to the rat race. I had an awesome time and loved everyone I met out there. Looking forward to coming again soon. Here are a few pictures and I have more to send. Thanks,
Nick
I have enjoyed the best hunting trip in my life. I am in love with BC, what a place, what mountains and lakes. The time that we expend with Grahame and Sam was incredible. Hunting, playing cards, drinking the "sidra", thats what we call to Grahame´s wine. And what animals. In one word "perfect" for me.
Cristóbal Mazariegos
I wanted to take a moment to again thank you for what can only be described as truly the "hunt of a lifetime". That is an often over used phrase, but in this case it is completely accurate. To take a magnificent 10 year old stone sheep ram after such a memorable stalk is something that I will always remember. To, in the same 14 day hunt, also take a great moose and an even greater mountain caribou is unbelievable. To say that the area is game rich is a real understatement. It has been my experience with outfitted hunts that when you take a great animal you have a tendency to excuse or forget things that did not go so well or aspects of the hunt that were not positive. Looking back on our hunt I could not think of a single thing that fit in either of those categories. Feel free to list me as a reference for future prospective hunters. I would be glad to talk with them, particularly those, like myself, who are a bit older and may think that their sheep hunting days are behind them.
Bob R.
Featured BC Hunt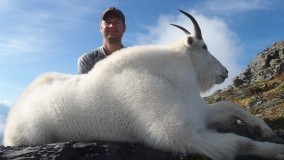 Testimonials
Clint, Thanks again for a hunt of a lifetime! I haven't stopped thinking about the hunts since I got home! If you need a reference I'd be glad to help out, I attached a few pics. Thanks again for
Justin Sandlin
Featured Products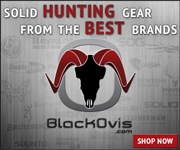 Quality Gear for Your Hunt
Don't have everything on your gear list. Everything you'll need for your next hunt is available right here...Buy the latest greatest hunting gear for your next hunting trip. Everything from socks to optics.