News
posted: Thu, February 20, 2014
New cook house at Indian River Ranch
posted: Tue, November 19, 2013
Well, we have finished up another fall season. We had a great year in both our Indian River Ranch and Kispiox Valley area.
posted: Sat, June 22, 2013
posted: Wed, April 17, 2013
Getting ready for our spring bear hunts.
posted: Sat, January 05, 2013
We are utilizing the best hunts from each area and have access to over 10,000 sq. miles of exclusive guide territory. Allan and I are booking hunts for both areas and will be guiding in both areas throughout the season.
posted: Fri, January 04, 2013
A few weeks ago I returned from my first guided hunt. Having always been on the guide end of the stick, it was insightful to see the other side through real experience. It was a great Elk hunt in New Mexico. I was lucky enough to draw a tag in a unit that can produce some awesome bulls.
Featured BC Hunt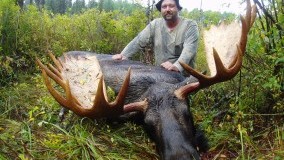 Tent camp Trophy moose hunt. Experience a real wilderness adventure in the back country of northern British Columbia.
Testimonials
I had the caribou officially scored by a Boone and Crockett measurer. He grossed just under 420 and nets 407. Hell of a bull! Thanks for the memories. Take care,
Zach, Montana
BC Hunting News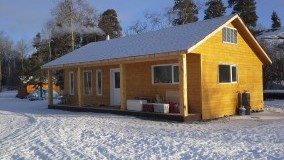 New Cook house at IRR
New cook house at Indian River Ranch